Happy New Year, loves!
We've been enjoying such a fabulous week together, I couldn't break the rhythm and get away to blog about it. No worries, though. Here we are in 2013, back and better than ever, especially after a blessed Christmas and New Year.
I has been a great week plus. Initially we were busy with holiday revelry, living up time with my parents in town. Busch Gardens Christmastown was a success and we didn't lose anyone--score! thanks to GG's wonderful leadership and more adults than children. Good thing we didn't lose any adults either--ha! ;) The weather was cooperative and though busy, we muscled through the crowds and were even able to enjoy a few rides. Mimi, Gramz, and Pappy all joined in the rides with the kids while Papa, M, and Baby G were happy campers to stay on the sidelines, enjoying hot cocoa. Perfect! To each, his own. I am learning that lesson more and more these days as a parent.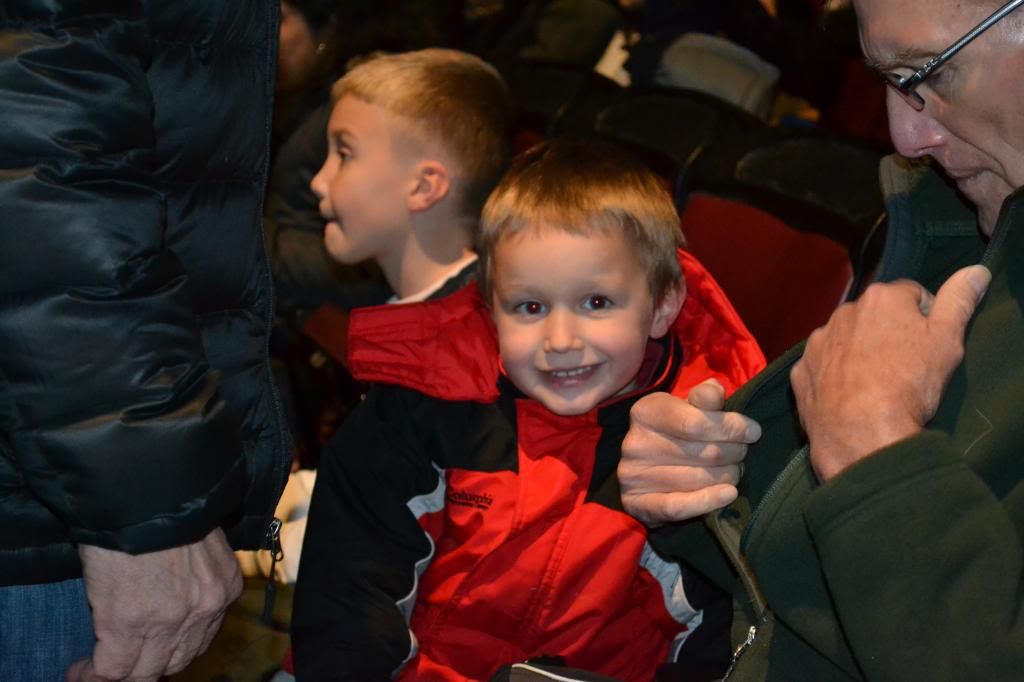 Getting ready to watch the Sesame Street Christmas show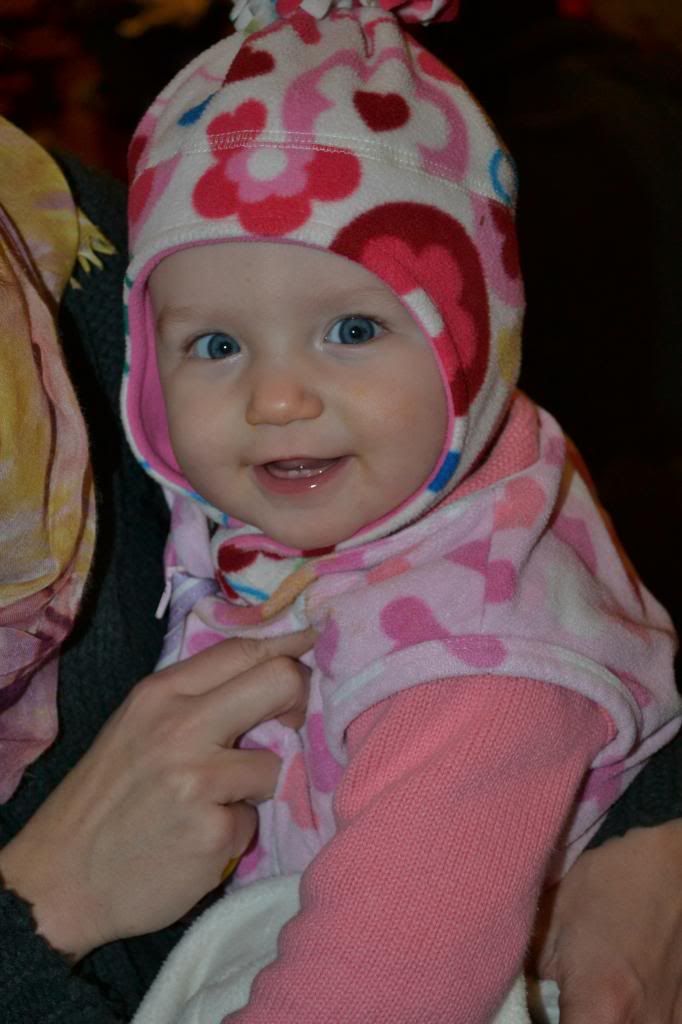 Even the smallest members were bundled tightly!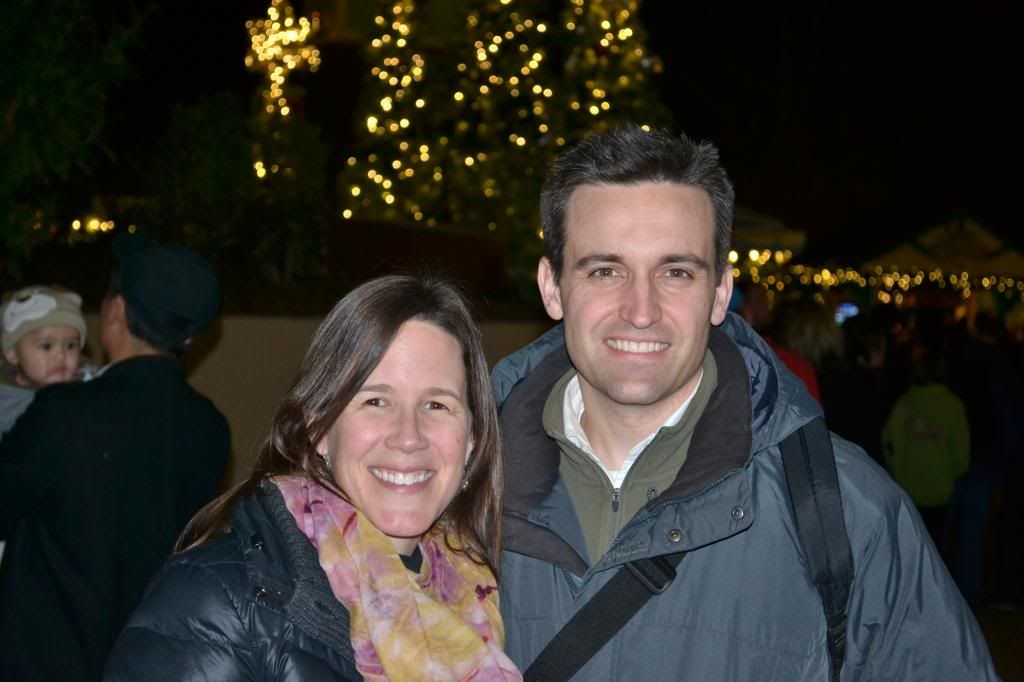 A rare photo of me and my main squeeze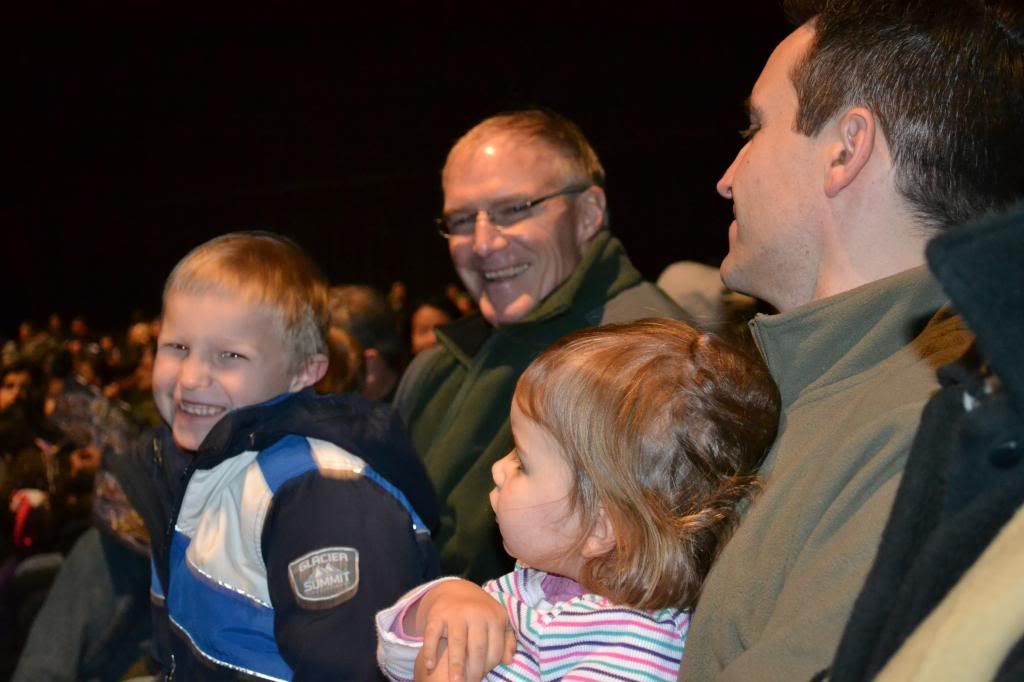 You can sense the enthusiasm ;)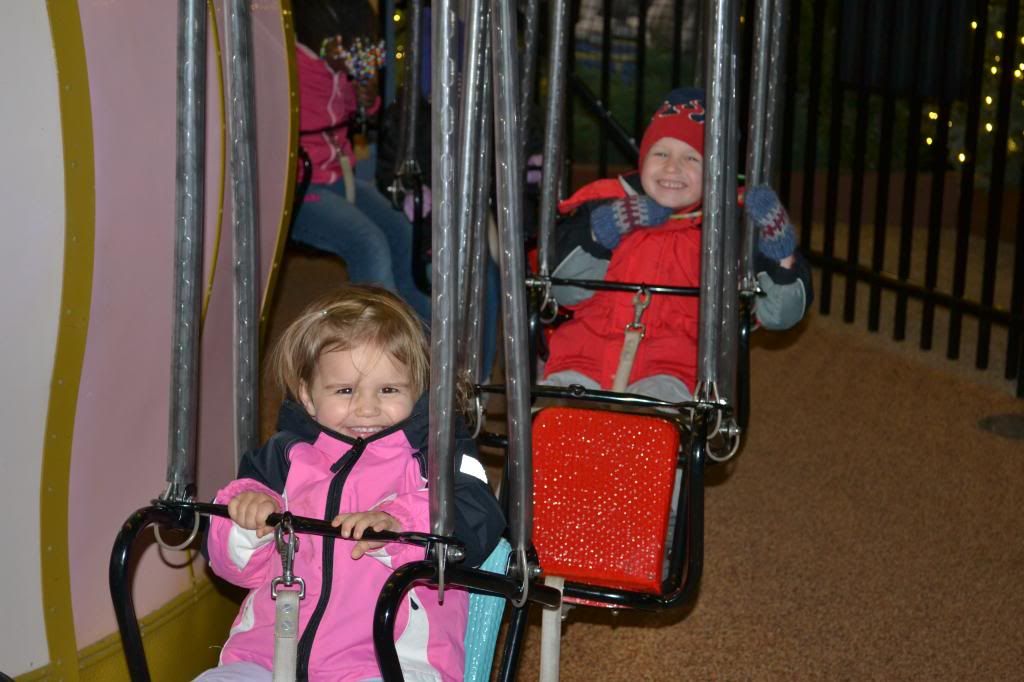 If I could bottle these two and sell them, I'd be a wealthy gal. They are exuberant!
Christmas Eve, we had the privilege to head to early Mass and all sit together to worship and partake of our Lord. What a blessing it was. My heart is never more full when I look around at my family at church. I feel home; I feel loved; I feel encouragement on this journey of life. It is good. I was so glad to share that special time with our whole crew and our parents. After, we drove around and saw a few houses on the tacky light tour before heading over to Mimi and Papa's for a delicious Christmas dinner. Everyone was dressed so nicely, we made it our goal to get a shot of each set of grandparents and the kiddos. The outcome was successful...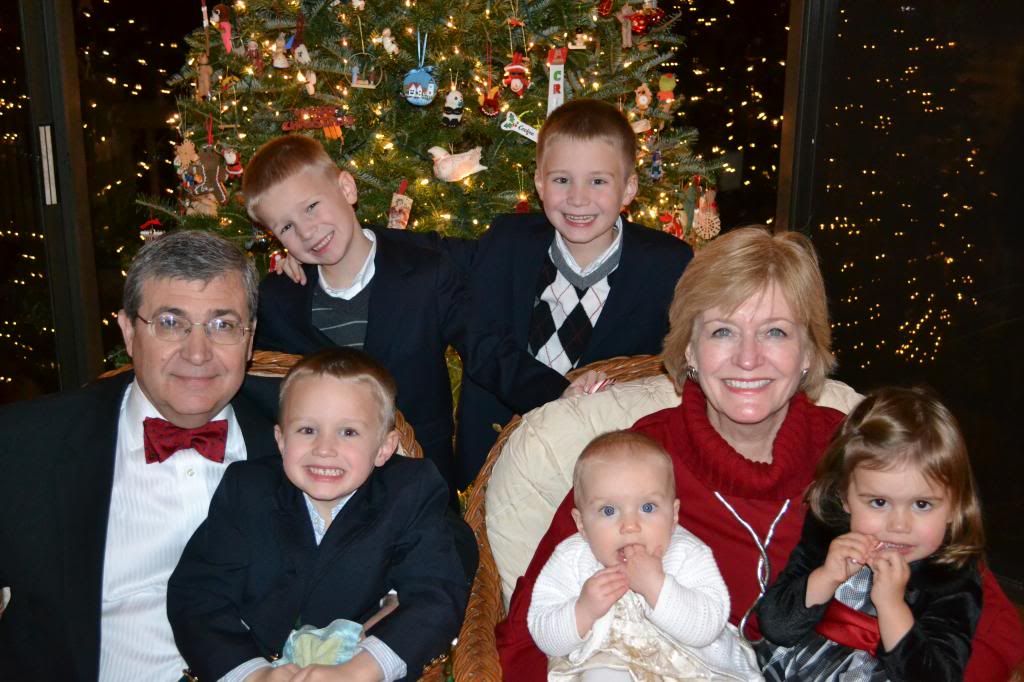 The evening was just about perfect until I had a mommy tantrum (due to children not listening) and had to apologize to everyone, including my sad child. It was a bummer, but thankfully all was forgiven and we moved on. Saved by grace, even on Christmas Eve. :) We finally wrangled all the kids into jammies, into the car, and into bed, but not before 10pm that night. It was late and we were all ready for sleep!!! Santa needed to come... and the elves still had some loose ends to tie up!!!
We did make it into bed... by 1:00am, with just enough rest to brave this scene: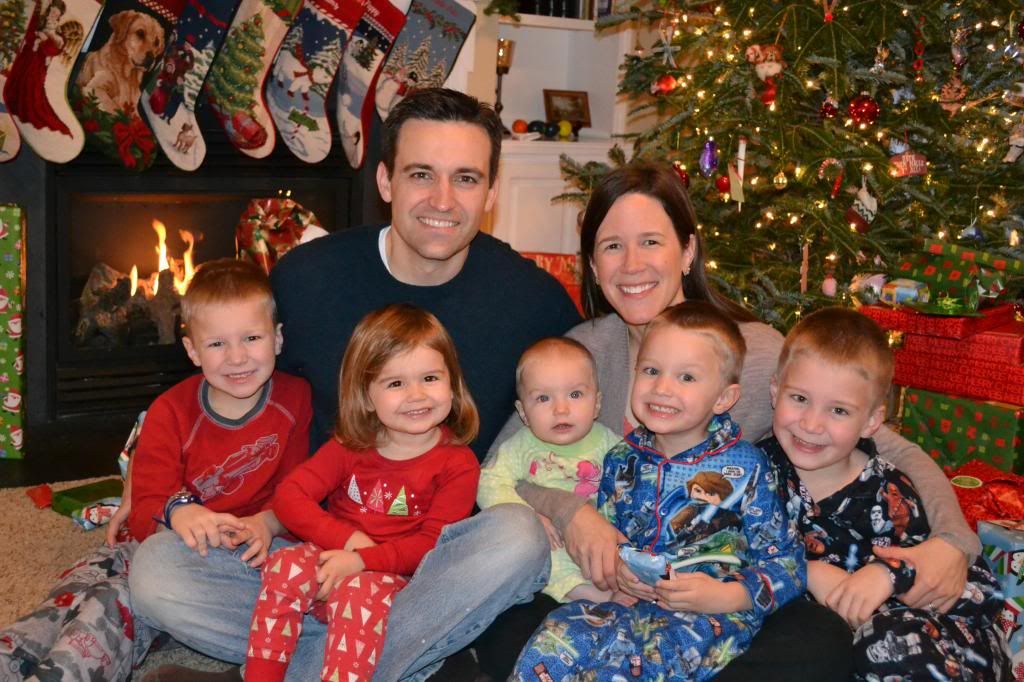 This year's family photo was an unreal phenomenon--we achieved relative perfection in one (yes, one) shot. It was a true Christmas miracle--thank you, Jesus! I think GG and I were in shock. ;)
Christmas morning we were all totally spoiled to be together again. The earliest riser awoke at 7am--not too shabby (but we did put them to bed so late!) We forbade any gift opening until 7:30am when they were allowed to open their stockings. Mimi and Papa arrived at their requested 8am time and away we went in a flurry of torn paper and excited children... They were in Christmas heaven!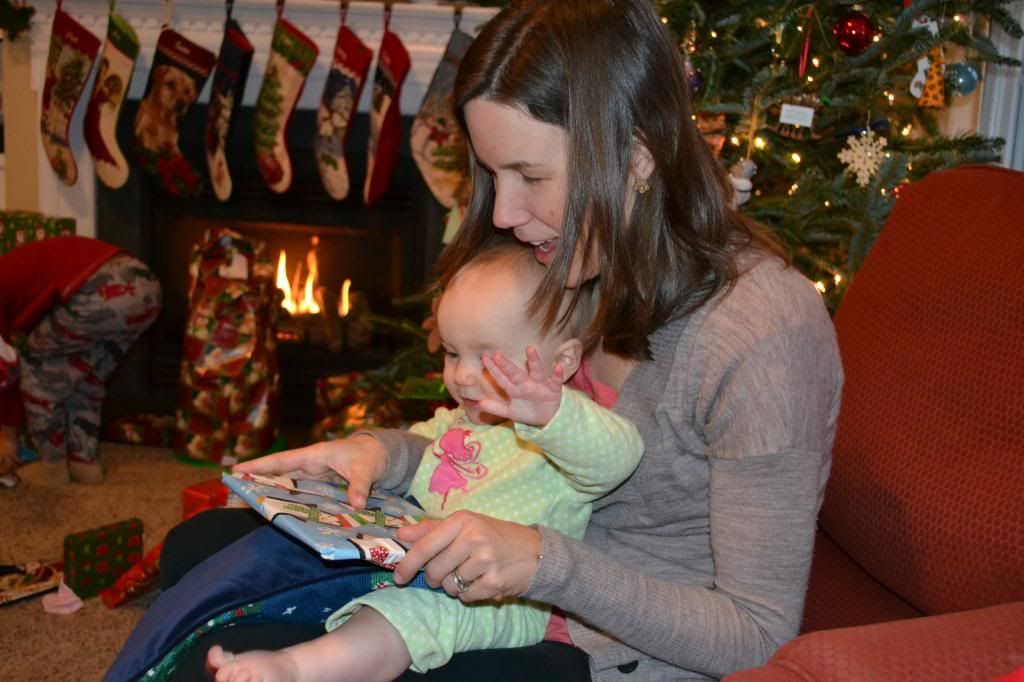 Baby G "opening" her first ever Christmas gift!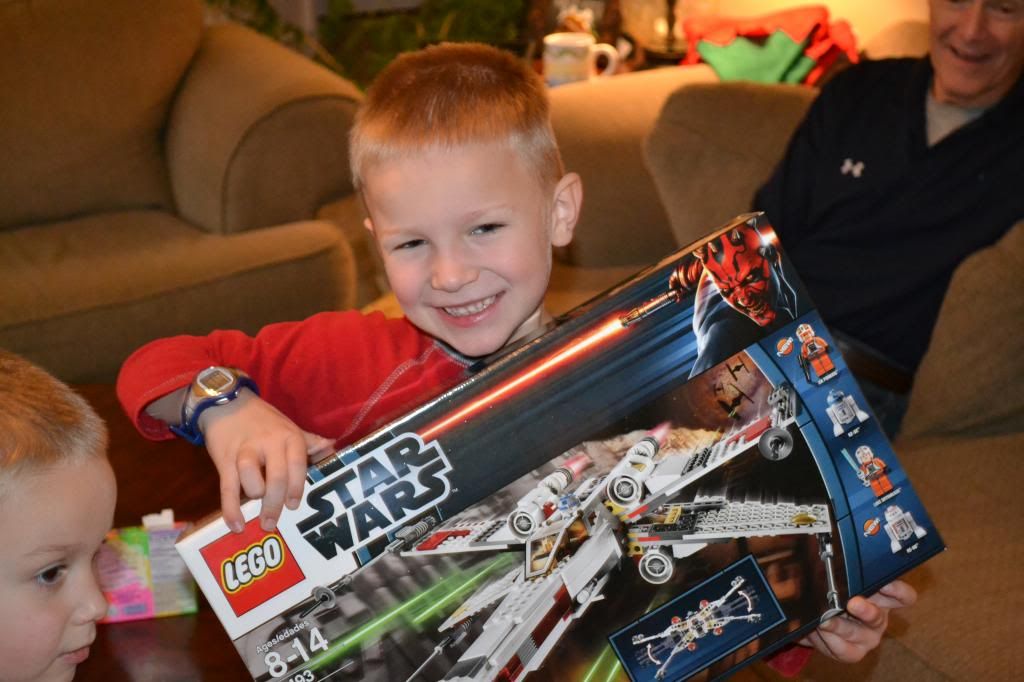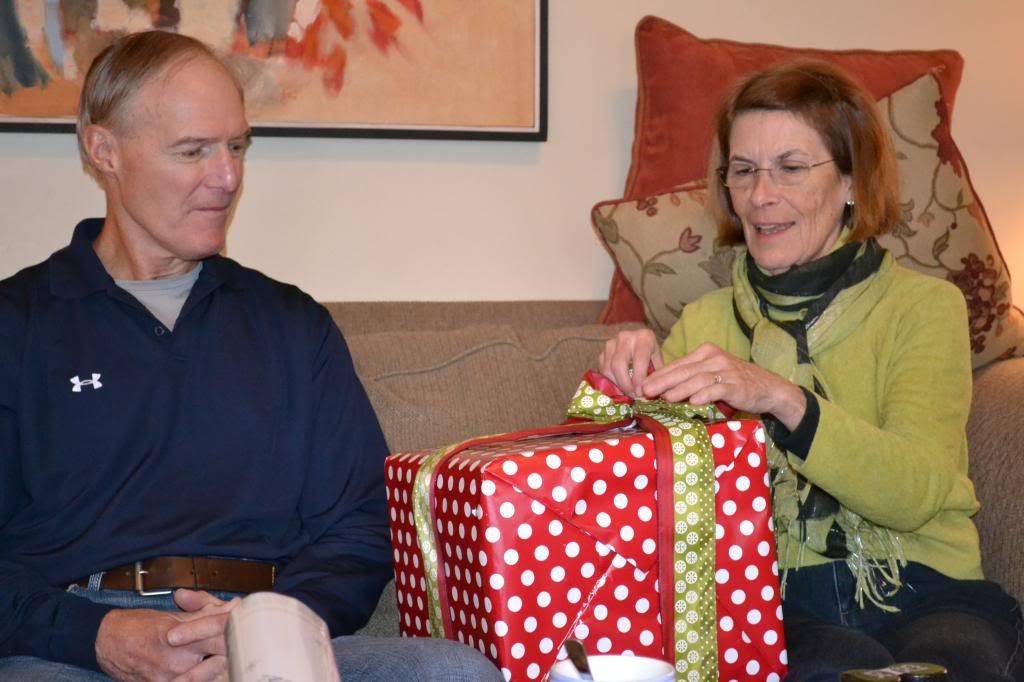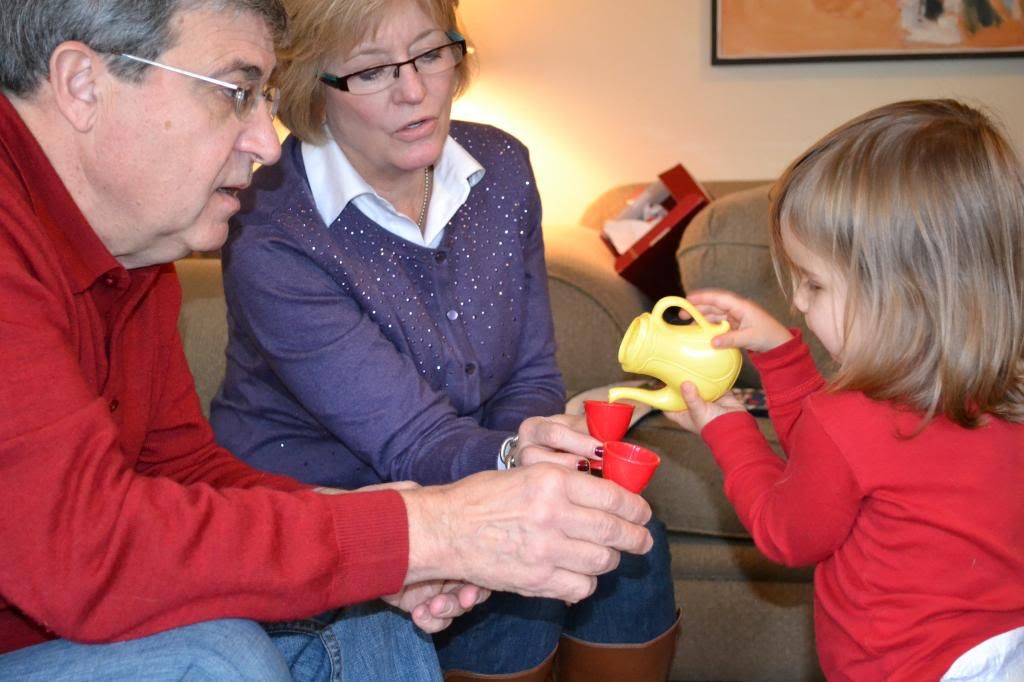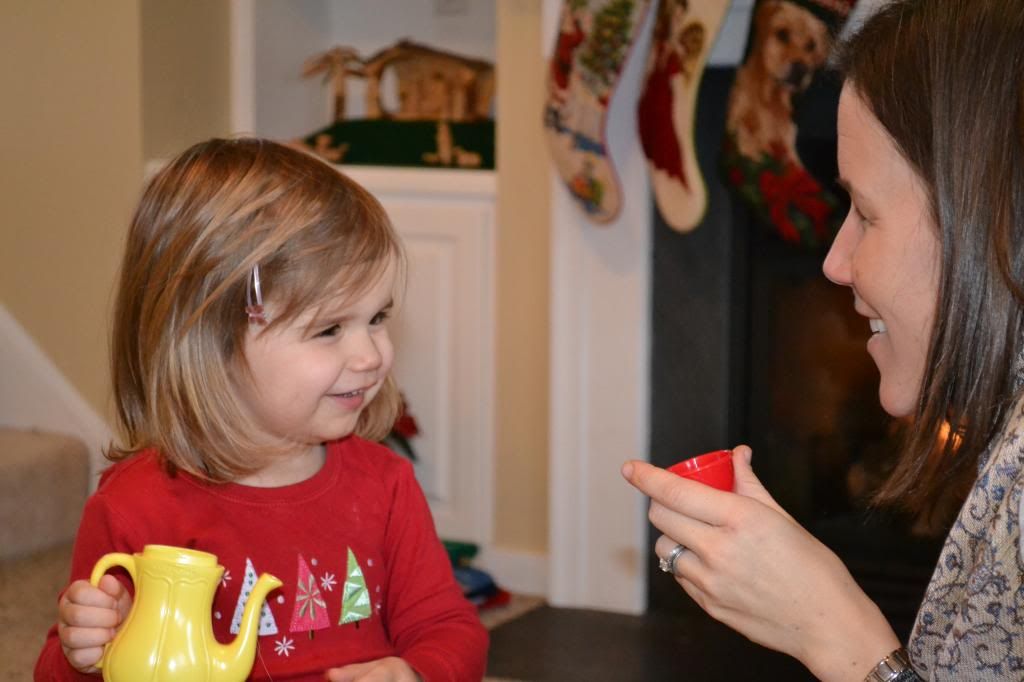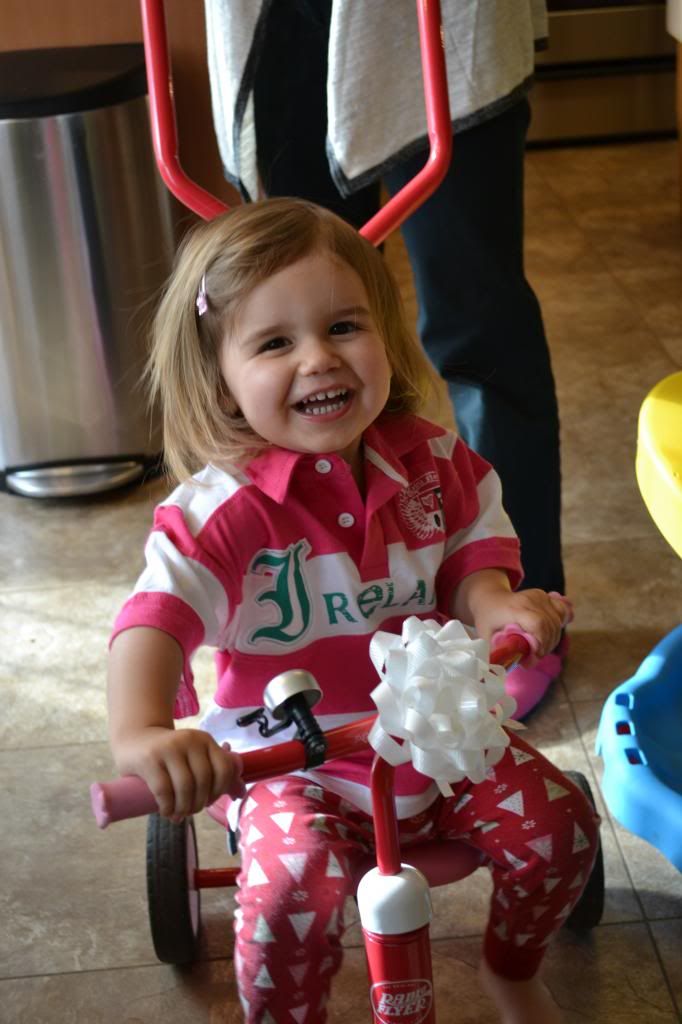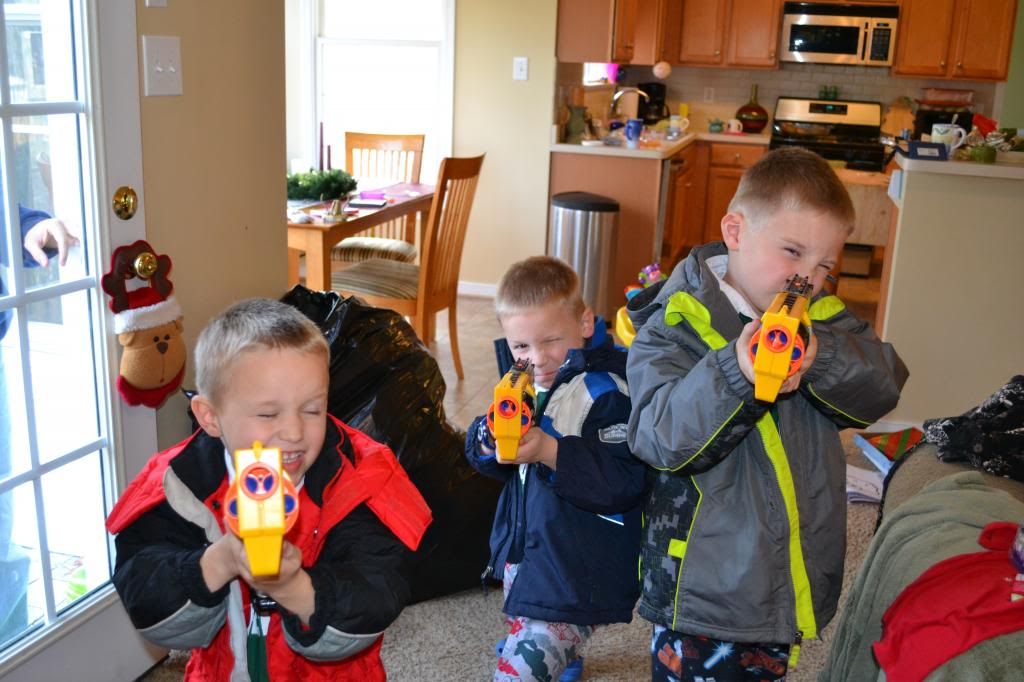 We enjoyed a brunch that morning and later all sat down together in our newly-put-together dining room. It actually feels like an adult room now--woo hoo! Only took 4 years! Thanks to GG and my dad for hanging curtains (finally!), sconces, and pictures on Christmas Eve. It set the scene for a lovely dinner together--one of those moments you want to freeze time because its so enjoyable.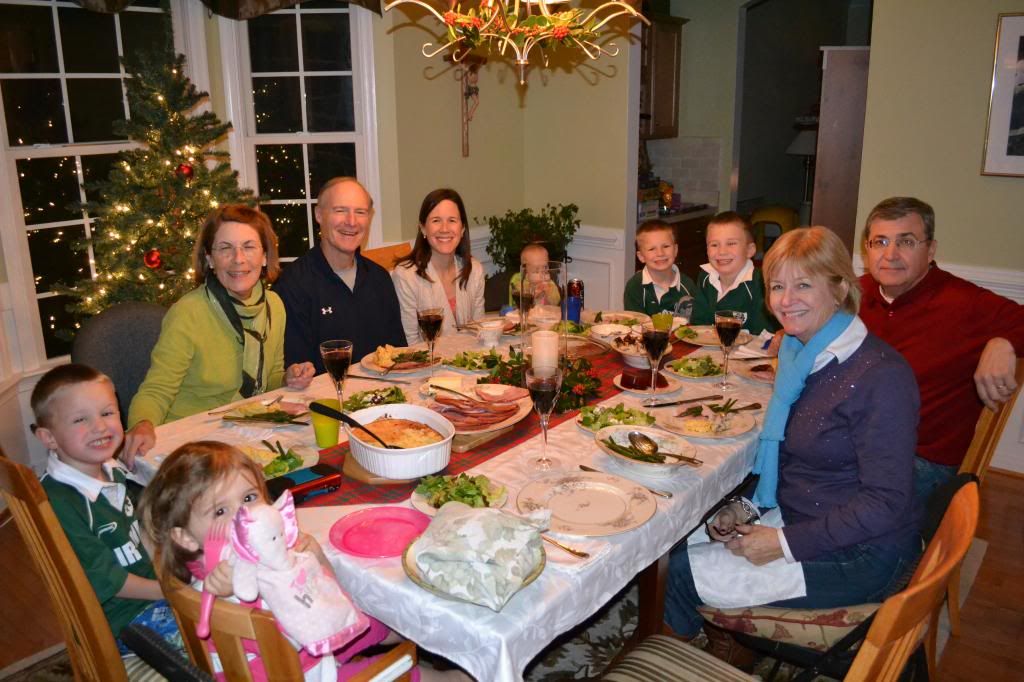 Since then we've been reveling in downtime and peace with no real agenda. We said farewell to my wonderful parents last Thursday and were so sad to see them go--it was a visit full of fun and togetherness. Our little nuclear family has had some sweet moments in the days since. We went to Kangaroo Jac's one day as a reward for filling our warm fuzzy jar. Another day we enjoyed a Red Robin lunch out with Mimi and Papa. Yesterday we headed to the children's museum and ran off our wiggles before heading to dinner at Chick-fil-A. Peace and togetherness. GG and I have also become hooked on Redbox and have had a movie night almost every night. This is such a treat for us and I can't believe his vacation time ends tomorrow. What wonderful memories we've created this holiday season.
There's no doubt in my mind--this time has been a gift from God; a blessing we'll cherish well into 2013 and for many years to come.
Blessings to you this new year,